Isonzo: Collector's Edition + 10 DLCs-FitGirl
13.09.2023 7.700 MB
Strategy, Action, Simulation
The Isonzo Collector's Edition includes a huge array of visual customization options: 140 items from 6 DLCs: 'Elite Units', 'Veteran Units', 'Reserve Units', 'Alpine Units', 'Royal Units' and 'Expedition Units' . With dozens of uniforms, accessories and mustaches to choose from, you can really stand out on the battlefield. There is also bonus content including soundtrack, artwork, and the Film Memoir mode!

The 'Elite Units' pack has some of the most historic units seen on the Italian Front, many of which come with eye-catching specialized backpacks! From Bersaglieri cyclists to the intimidating Austro-Hungarian "Bosniaks" and more, along with five mustaches and three facial items.

The 'Veteran Units' pack contains battle-worn uniforms from some of the most iconic units seen on the Italian Front, from the Italian Sardinian brigade and Bersaglieri to the Austro-Hungarian Honved. There are five mustaches and four facial items, plus one face for each faction.

The 'Reserve Units' pack contains the unique uniforms of units that were mainly deployed in the rear-lines, from the Italian "Carabinieri Reali" military police to the Austro-Hungarian "Standschützen" who were called up to defend the mountains of Tyrol. There are four mustaches and four facial items, plus one face for each faction.

The 'Alpine Units' pack contains uniforms and gear worn by units in the winter as well as a range of rough beards! Italian troops enjoy white winter camo, while the Austro-Hungarians button up with heavy greatcoats. There are five mustaches and beards, with three facial items, plus one face for each faction.

The 'Royal Units' pack expands the German faction by introducing the distinctive uniforms of 2 major states within the "Deutsches Reich": Bavaria and Württemberg. It contains 2 sets of uniforms for all classes, plus a special officer uniform.

The 'Expedition Units' pack contains a mix of elite troops and thick winter uniforms. For when the temperature drops you have Gebirgsjäger and Alpenkorps alongside regular troops geared up for cold weather, or strike fear into your enemies with elite units like the Royal Bavarian Lifeguards and extra heavily kitted out, grenade laden stormtroopers. There are seven mustaches and beards, two facial items, plus three faces.

A bundle of digital content is also included:
The rousing Isonzo soundtrack (±28 minutes)
Artwork including wallpapers, character renders, and weapon renders
Film Memoir mode which changes your view to that of a WW1 era film reel. Black and white, film grain effects, and audio details complete the effect.
··Downloadlinks··
Updates | DLC
Nothing Here
Special Notes
Nothing Here
Screenshots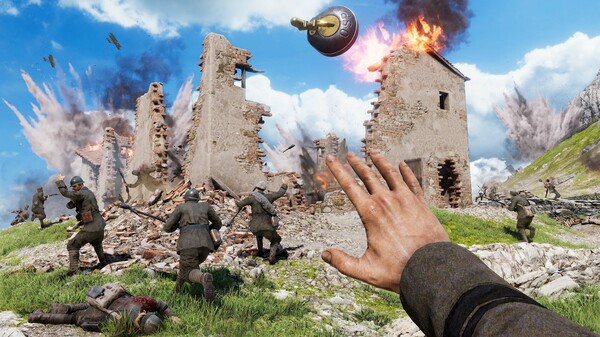 nfo
Based on scene Isonzo-TENOKE ISO release: tenoke-isonzo.iso (22,467,330,048 bytes)
Game version: v452.46712; 10 DLCs are included and activated
If you experience gamelock with Error 102, copy contents of "NoDVD\Goldberg" folder to the game root and run "Isonzo\steamclient_loader.exe"; thanks to Dound1946!
To play "Custom Matches" with bots FILL ONLY two admin password fields (admin/admin), then select mode, map and other parameters. If you fail (put main password, password mismatches, put game name – restart the game completely)
100% Lossless & MD5 Perfect: all files are identical to originals after installation
Bonus OST in WAV format ripped, NOTHING re-encoded
Selective Download feature: you can skip downloading and installing of bonus content (images + OST in MP3)
Significantly smaller archive size (compressed from 20.9 to 7.4/7.7 GB)
Installation takes 3-8 minutes (depending on your system)
After-install integrity check so you could make sure that everything installed properly
HDD space after installation: up to 20.4 GB
Language can be changed in game settings
At least 2 GB of free RAM (inc. virtual) required for installing this repack