Halo Infinite MULTi14-ElAmigos
22.01.2023 45.800 MB
Action, Adventure
Become the Master Chief:
When all hope is lost and humanity's fate hangs in the balance, the Master Chief is ready to confront the most ruthless foe he's ever faced. Step inside the armor of humanity's greatest hero to experience an epic adventure and explore the massive scale of the Halo ring.
Explore Zeta Halo:
Halo Infinite offers the most expansive and adventure-filled Halo campaign to date set in the wide-open environment of the ancient ringworld, Zeta Halo. Explore the vast reaches of Installation 07, from stunning heights to mysterious depths below the ring. Rescue UNSC marines to gain reinforcements in your fight against a fearsome enemy known as "the Banished."
Defeat the Banished:
Set after the events of Halo 5 and shortly following a crushing defeat, the UNSC fleet lies shattered and stranded on the surface of the heavily damaged Installation 07. Amongst the wreckage, a terrifying clan of Brute warriors, The Banished, now roam the damaged ringworld. Outmanned and outgunned, Master Chief must stop the Banished from repairing the Halo ring and claiming control of the galaxy's greatest threat.
PC Settings & Optimizations:
Halo Infinite is built for PC. From advanced graphics settings, ultrawide/super ultrawide support and triple-key binds to features like dynamic scaling and variable framerates, Halo Infinite is the best Halo experience on PC to date.
··Downloadlinks··
Special Notes
Nothing Here
Screenshots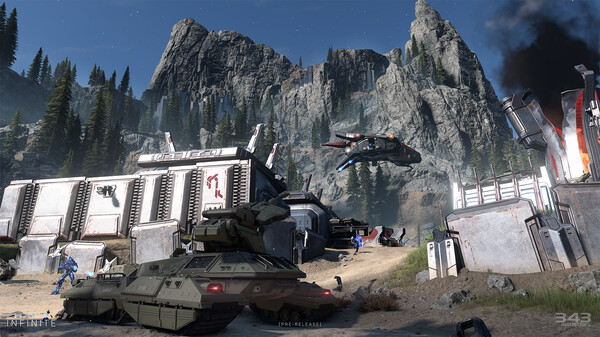 Updates | DLC
Nothing Here
nfo
ElAmigos release, game is already cracked after installation (crack by Codex).
DLC: Campaign, Campaign High-Res Textures Pack, Multiplayer High-Res Textures Pack.