Arma.Reforger.MULTi12-ElAmigos
20.11.2023 8.600 MB
Action, Simulation, Strategy
Powered by the new Enfusion engine, Arma Reforger enlists you in the fight for two incredible islands, spanning a total of 61 km2, in an authentic Cold War setting. Battle it out in the Conflict multiplayer game mode, or create your own scenarios in Game Master, a real-time editor where anything can happen. Explore the all new terrain of Arland and return to nearby Everon, the mid-Atlantic microstate from the hit game that started it all, Arma: Cold War Assault.

Arma Reforger is the latest installment in the Arma franchise, offering a versatile, creative, and fully-moddable platform that redefines the mil-sim genre.
Everon
Return to Everon, a 51 km² mid-Atlantic island in the Malden archipelago. Revisit familiar locales from Operation Flashpoint and revel in the natural beauty of a massive open-world; a stunning landscape of pine and broadleaf forests, flowing rivers, ponds, idyllic towns, and austere mountains, surrounded by pebble beaches and rocky coastlines.

Arland
Capture new ground and explore the remote, overseas territory of Arland; a small, 10 km² island belonging to the microstate of Everon. Situated with its mother state in the mid-Atlantic, it occupies a strategic Cold War faultline and is well-known for its military airbase, leased to the Soviet Union.


Conflict
Join players online and experience realistic Cold War combat as a US or Soviet Army soldier. Capture strategic positions, dominate the battlefield, and work with others to secure objectives in a dynamic, unforgiving environment. With a selection of period-authentic weapons and vehicles, recreated in meticulous detail, Arma Reforger's multiplayer game mode returns you to war.

Combat Ops
Experience co-operative gameplay and dynamic objectives with Combat Ops; a new scenario focusing on small-team tactics. Infiltrate Arland, strike hard, strike fast, and reach the extraction point.
··Downloadlinks··
Updates | DLC
Nothing Here
Special Notes
Nothing Here
Screenshots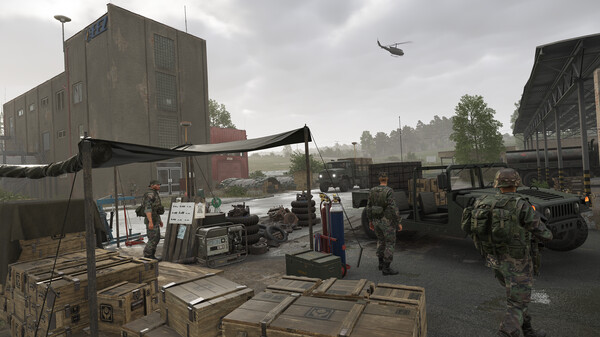 nfo
ElAmigos release, game is already cracked after installation (crack by Codex/Rune or FLT). Updated to version 1.0.0.47 (16.11.2023).
Game is playable with bots in Game Master mode.