Age.of.Wonders.4.Premium.Edition.MULTi9-ElAmigos
04.05.2023 6.700 MB
Strategy
Rule a fantasy realm of your own design in Age of Wonders 4! Explore new magical realms in Age of Wonders' signature blend of 4X strategy and turn-based tactical combat. Control a faction that grows and changes as you expand your empire with each turn.

Triumph Studios' award-winning strategy series has emerged into a new age, evolving the game's iconic empire building, role-playing, and warfare to the next level. A new storytelling event system and hugely customizable empires provide an endlessly replayable experience, where each game adds a new chapter to your ever-growing saga.

Powerful Wizard Kings have returned to the realms to reign as gods among mortals. Claim and master the Tomes of Magic to evolve your people, and prepare for an epic battle that will determine the ages to come.



Craft your followers by combining bodily forms, societal traits and arcane powers. Build anything from a clan of cannibal halflings to mystic moon elves, or recreate your favorite fantasy tropes
Seek powerful tomes of magic to enchant your armies and evolve your people! See your people physically change as they morph into angelic beings or scions of chaos to face their enemies.
Seek glory through brutal domination, cunning alliances, or ultimate arcane knowledge, and write your legacy into the very fabric of the realm itself!

Every choice opens up new possibilities and tactical advantages; deep, multilayered strategy allows you to try new tactics or explore new powers at every turn
Tactical turn-based battles bring your armies to life, showcasing their power in an environment shaped by your decisions. From skirmishes with roaming monsters to vast sieges with dozens of units on each side, with the addition of a morale system and more features, every battle brings a fresh challenge
Tremendous variety in empires, units, and environments keep the game endlessly replayable. Age of Wonders is more moddable and open-ended than ever in the series' history
··Downloadlinks··
Special Notes
DLC: Archmage Attire, Pre-Order Content Pack, Sign-Up Content, Expansion Pass.
Screenshots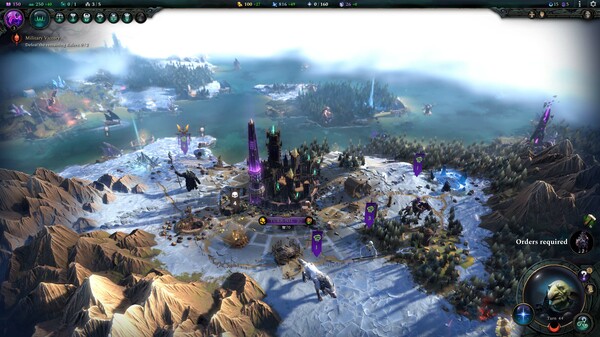 Updates | DLC
Nothing Here
nfo
ElAmigos release, game is already cracked after installation (crack by Codex or FLT). Updated to version 77876 (02.05.2023).