Gloomhaven_Solo_Scenarios_Mercenary_Challenges_v20230918-FLT
19.09.2023 11.900 MB
RPG, Adventure, Strategy
The Solo Scenarios: Mercenary Challenges DLC is the digital adaptation of the Solo Scenarios board game expansion for Gloomhaven, the critically acclaimed Tactical RPG.
Face 17 new carefully crafted missions by Isaac Childres, designer of the Gloomhaven Board Game. Each scenario comes with its own unique reward. There is a twist however, you can only complete each mission with its specific mercenary!

Each deadly scenario plays around the strengths and weaknesses of a specific mercenary and the reward is tailored to them. The scenarios are unlocked once the required mercenary reaches level 5 in the Story Campaign, giving you time to hone your skills. Additionally, you can unlock the items within the Guildmaster through that character's story scenarios.

You can also take your current multiplayer save and complete the Solo Scenarios on your own and import them into your or the hosts' next session. Alternatively, you can spectate your friends hopelessly trying to succeed in real time!
Face your greatest challenge
Extending the narrative of the Story Campaign, these scenarios are significantly harder than the base game. Play at your own risk, mercenary.

This DLC comes with:
17 new exquisitely punishing scenarios, each tailored to a specific base game Mercenary
17 new items, one for each of the original Mercenaries
Items & scenarios reworked and rebalanced by Isaac Childres to better fit the digital version
New unique enemies…
··Downloadlinks··
Updates | DLC
Nothing Here
Special Notes
Nothing Here
Screenshots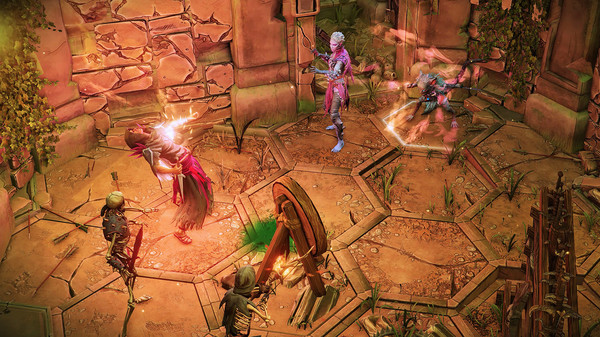 nfo
Note: An xdelta update resulted in pretty much the same size as the full
iso, so here's a standalone release including the latest version
containing a new dlc, new features, many bug fixes and quality of life
improvements.
Sadly the game devs removed the version number from the in-game menu, so
had to go with the ultra lame date versioning.
Patch notes: https://store.steampowered.com/news/app/780290?updates
The following DLC are included:
Gloomhaven - Solo Scenarios: Mercenary Challenges
Gloomhaven - Jaws of the Lion Expansion
Gloomhaven - Jaws of the Lion Alternative Skins
Installation Information:
* Unrar and burn or mount the .iso
* Install by using our installer
* Play the game (Block the game in your firewall)