Rollercoaster Tycoon Classic MULTi6-GOG
23.12.2022 350 MB
Strategy, Simulation
RollerCoaster Tycoon® Classic™ is a new RCT experience, remastered in 2017 by franchise creator Chris Sawyer to combine the best features from two of the most successful and beloved RCT games in the series' history – RollerCoaster Tycoon® and RollerCoaster Tycoon® 2. Roller Coaster Tycoon Classic also comes complete with the Toolkit, Wacky Worlds, and Time Twister expansion packs! Create and run amazing parks filled with the most outrageous rides imaginable. RCT Classic includes a mixture of authentic playability, depth of gameplay and unique graphical style of Chris Sawyer's original best-selling RollerCoaster Tycoon® PC Games. Packed with content, players can enjoy designing and building roller coasters and rides, landscaping parks and managing the staff and finances to keep their guests happy and the money flowing in. Can you become the next RollerCoaster Tycoon?
Key Features:
The Original RollerCoaster Sim: Experience all the fun from the original RollerCoaster Tycoon® and RollerCoaster Tycoon® 2 games, with a new sim that combines the best elements of both classic titles.
Coaster Construction: Create incredible roller coasters – Quickly build a pre-made design or use the intuitive piece-by-piece building tools to design and theme your own unique rides.
Park Designer: Keep your guests happy by building gentle or wild rides, food and drink stalls, water rides, and even transport rides to take them around the park; Customize your park by building scenery, fine-tuning the landscape, and routing the footpaths.
Park Management: Run your park's marketing and finances to make a profit while attracting more guests; Organize your staff to keep the park running well and looking its best.
Exciting Environments: Build the ultimate theme park in a variety of challenging environments, from the tranquility of Forest Frontiers to the bustling commerce of Megaworld Park.
Park Scenarios: Progress through 95 classic park scenarios from RollerCoaster Tycoon® and RollerCoaster Tycoon® 2.
··Downloadlinks··
Special Notes
Nothing Here
Screenshots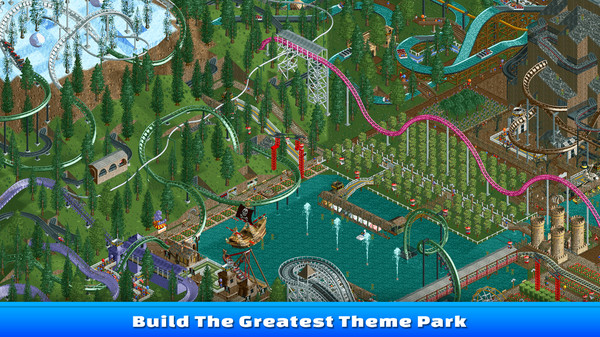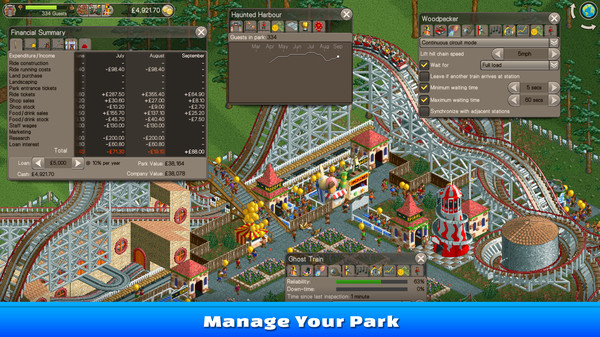 Updates | DLC
Nothing Here
nfo
Install & Play. GOG Version is DRM-Free